Hi Dad, Remember Me? Your Daughter Jenna…     I stood outside the door, hesitating to knock as I wondered if I had made a mistake coming here.  It was Thanksgiving Day and I could think of so many other ways to be spending the day then to be standing outside my parents' house.  I could feel the butterflies in my stomach fluttering, not knowing how my parents would react to seeing me after all these years.  Thirteen years had passed since I had left home at 17 which was the last time I had seen my mom and dad.  Now here I was on Thanksgiving Day about to face them and they had no idea I was even here because I had shown up unannounced.
I had gotten in touch with my father after doing a search online to find out where they were living and had found the email address to the school he teaches at. I had emailed him months before to let him know that his father, my grandfather, had passed away but he had hardly responded to me about the death of his father since the two of them were never close. We emailed here and there but it wasn't continuous communication. I don't know why I chose to go visit my dad but I guess it was because I felt I needed some closure in that part of my life.  Since I could not find my dad's physical address online I had emailed him to ask him what his address was so I could send him a Christmas card.  I decided to just show up instead since my parents only lived 2 hours away.  When I knocked on the door, my dad answered but it was anything but a welcoming homecoming.  He just looked at me at first, not even offering me a hug, and after a few seconds invited me in.  I was unprepared for the trip down memory lane that I was about to go on when I entered the house.
When my brother and I had left home, my mom and dad had decided to adopt two children from China, a girl and a boy.  They wanted to remake a better family since my brother and I hadn't exactly grown up the way they wanted us to and had chosen to live our own lives and become who we wanted to be rather than who our parents wanted us to be.  Looking around the house, the first thing I noticed were all the pictures of my younger adopted siblings but none of me or my brother.  It felt as if I did not exist and had never existed in their lives.  Taking this all in, I said nothing and sat down to talk to my dad while my mom and my younger sister went to the store to get some more things for Thanksgiving dinner.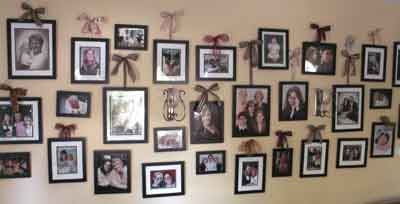 Talk about having an awkward, uncomfortable visit.  I did not even know what to talk about with my dad because for the past 13 years he hadn't even been in my life.  Let me back up, though, a little bit and go back to when I left home.  At 17, I moved out due to the abuse I was going through at home.  I grew up in a very abusive household where home was not a safe place where hugs were given out and love was shown but where it was a battlefield where I found myself having to fight to make it through each day.  The first time my father laid a hand on me was when I was 11 years old.  Hearing my parents fighting again, I had crept downstairs to see what was going on.  My father had my mother cornered against the wall, yelling at her about something.  Concern for my mother's safety kicked in and I told him to leave her alone.  For a brief moment it diverted his attention away from my mom but now his wrath was turned on me.  Coming over to me, he told me to mind my own business and slapped me hard across the face. That one moment in my childhood would change everything between me and my father.
Things only continued to grow worse.  My father was the one man I feared the most. As much as I tried to stay invisible and out of sight when I was home, somehow I seemed to always be caught in the path of his anger.  The physical abuse escalated from a slap across the face to throwing me downstairs, hitting me hard with pillows, twisting my arm to where it nearly broke, kicking me to the ground several times after picking me up and throwing me off the back porch one night, etc. To make him happy, I tried to live up to his expectations for me because more than anything I yearned for his approval and longed for his love. Yet the only thing I ever heard from him was how he had nothing to be proud of me for and how I didn't deserve his love.  I watched as he tore my mother down to where she became a shadow of who she once was.  I remember hearing her cry behind her locked bedroom door as she refused to come out and I watched as depression started to steal away from me the loving mother I once knew.  At night I cried my own tears into my pillow, wanting more than anything to just leave this life behind me. The negative words spoken to me about how I wasn't good enough and how they didn't want me cut me deep to the core, leaving emotional wounds that hurt more than the physical abuse.  With all the abuse I faced at home, my grades at school suffered greatly and I started self-inflicting as a way to rid myself of the emotional pain I was feeling inside.  My dad forced me to see psychologists, making me believe there was something wrong with me while my mom constantly blamed me for their marriage problems. When I got in trouble, I was forced to repeat out loud that I was a moral failure.  I had no privacy so when my parents discovered my journal with things I had written in it, they threw it away, saying it was all lies. I had a secret place I often would go to where I would write my thoughts out and look out over the water, thinking there had to be more to this life and wondering what it would be like for me when I finally was able to leave for good.  Still with no one to turn to or confide in about what was going on including my own relatives who turned their backs on my mother even though they were aware of the abuse going on, my thoughts turned to suicide because I thought death was my only freedom from the pain tearing my heart apart as I felt it shatter into a million pieces.  Eventually my mom turned the tables on my father, tearing him down just as he had torn her down to the point he wanted to end his own life.  I remember standing in the doorway of my room, watching my father pass me as he walked down the hall, looking defeated as he told me he just wanted to die.
At age 17 I finally left home for good.  I didn't tell my parents my plan to leave but had packed a few bags to take with me. Unfortunately the night I left my parents were home so I wasn't able to just leave a note behind.  My dad was furious and kept yelling at me the whole time but my mom said nothing.  I stayed outside in the rain, waiting for my friends from work to pick me up as my parents stayed inside the house.  That was the last time I saw my parents until my visit on Thanksgiving Day last year.  Sitting down on the Greyhound bus, waiting to leave South Carolina and go to Florida to see my older brother, the one thing I promised myself was that I would never look back or return to the life I once knew.  With only $300 to my name, I set out to find a better life for myself, one free from the abuse I had suffered for so long.
As I sat across the table, listening to my father talk about his teaching job, I began to realize just how much he seemed to be miserable in his own life now.  He talked about how he didn't like teaching, about politics, and about everything else except for how things were now going in my life.  Never once did my father ask me how I had been over the years or how things were going now.  He didn't ask me about my previous marriage or divorce and he never even asked me how my brother was doing.  I had no idea what to talk about with my dad because the truth is my own father doesn't know me or who I am because he never really cared about being a part of my life when I gave him chances to do so and tried to reconnect with him after I left home.  He missed out on getting to know me.  Even when I was growing up, he tried to live his dreams through me so he never knew who I was back then, either.  Sitting at that table was like sitting at a table with a complete stranger.
If I thought that was awkward, I was in for an even bigger surprise when my dad revealed a shocking family secret.  We had been talking about my grandfather who passed away and why my father hadn't returned my phone call when I had called him to let him know.  He said that he had hoped my grandfather would have left him a note of apology for the things he did to him and it was then my dad told me he had been sexually abused by my grandfather when he was about 5 years old.  He said my grandfather had hypnotized him to make him forget about the sexual abuse.  I was in shock as I heard this but my father showed no kind of emotion as he told me this.  Instead he sat there calmly but never once tried to get up to give me a hug when I started crying from hearing this story I had never known.  To be honest I am not sure I even believe my own dad about this and I guess I will never know the truth about what happened since my grandfather is not here to share his side of the story.  I do know my grandfather was a very honorable man who served in the Air Force during Vietnam and was respected by a lot of people.  Yes, my father did apologize to me for the pain he put me through so in that regards I guess I did get closure in this chapter of my life.
The one thing I took away from this visit was the realization that I am no longer that scared little girl I used to be.  I am no longer that little girl who sit in the corner, hugging her teddy bear close, wishing I could block out the screaming and the sounds of glass breaking during fights my parents had.  I'm not the little girl who was so afraid of her father.  Today I am living my life for me and I don't need my father's approval to be who I am because I am proud of the woman I've become.  I may not have grown up to be who my father wanted me to be but I did grow up to be the person I always wanted to be, the person I was born to be and meant to be, me.
My life may not have started out as a fairy tale but it doesn't have to end tragically, either.  I'm writing my own happily ever after by living it through the better life I've created and made for myself.  Even though this is how my story began, it's only part of my story. Your life story doesn't end with the past but it begins with turning the page forward and finding out what comes next by living in the now.  No matter what you've been through in your past, remember that you are here today because of the strength and courage you had to fight to make it through yesterday by holding onto the hope of a better tomorrow.  In order to find out what the rest of your story holds for you though, sometimes you have to close out some of those chapters and even write people out of it who don't care to be in it anymore.  I don't regret going to see my parents on Thanksgiving Day.  That visit showed me what I needed to do in deciding to move on from that part of my life because I know that chapter with my dad is now finished and can be put behind me.  Don't let the past dictate your future.  Turn that page forward, find your happily ever after and make for yourself an even better, stronger finish to your story.
Guest blogged through the strength, honor, and courage of Jenna. To see more on Jenna and her story click "HERE" for her social media or "HERE" for her personal blog.