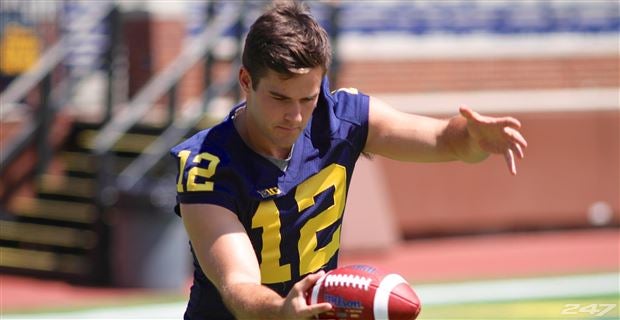 So he fumbled the ball… Okay, so what are we going to send him death threats? Apparently. And one mistake (which makes us human… I don't remember who said that one?) and we should put him as a social outcast. "Shame on you Blake!" they say. Well, I'm here to join the team coach. I'm for team Blake O'Neill.
If you're involved in watching sports (and personally being from Michigan), then you've seen the fumble heard round the world. Blake O'Neill, on the very last play against the Wolverines biggest rivals, Michigan State Spartans, fumbled the football while up by a few points. They were to lose the game with only roughly 10 seconds left on the clock and putting Blake O'Neill as NCAA's most wanted man.
What's the deal with this cyber-bullying though? O'Neill has the guts and tenacity to step up into one of the biggest stadiums in the world (which housed over 110,000 people), and catch a snap nearly 13 yards back, which for all we know could have been a bad snap?
There have since been specific blogs in Blake O'Neill's name posted on places like Reddit and other popular forums known for cyberbullying. Blake has received dozens of death threats and made national and even international headlines about the ordeal. Can't the guy just go to school without having to LITERALLY watch his back?
Such tweets are quotes as:
"The entire state of Michigan hates you."
"Why are you such shit."
"Whatever scholarship you're on I hope you lose it…"
"Jump off a cliff into a pool of spikes and cyanide."
"Dipshit loser, you might as well cut your hands off."
Why have Americans turned their back on an obviously outstanding citizen of our country? Granted O'Neill is a native of Melbourne, Australia, he sure as heck didn't deserve the spitfire backlash he received. We need to contest now that we are here for Blake in such an outlandish scheme by the wanna-be haters of the cyber stalking and bullying scandal.
How about we take a look at the bright side of Blake and put that on display, instead of front headline news spurring up more death threats and hatred? Here's a look at this good, outstanding man…
As stated by the special teams coordinator in an interview done when signing Blake O'Neill to the team he quoted him as a man of maturity, and the team needing his level of maturity on their squad:
"We are looking forward to having a player of Blake's level of maturity, background and skill set — growing up playing Australian rules football — in our program."
(mgoblue.com)
Or how about we look at an esteemed member of this societies quote on Blake. The MSU officials have officially reached out to Blake O'Neill and the esteemed quotes go as such:
"It's not all your fault…..it's not your fault that it was effectively 10 of us against eight of you…..this does not change the fact that are you a gifted athlete….I would be proud to have you on our team."
(Westerman—wins.com)
So it's evident that the league, other teams, his team, and family and friends all have his back. I would be proud to call myself a friend of the graduate student who attends one of the most prestigious and tedious schools in the nation for grades and academics. Yes, I said a graduate student, who in the classroom has earned "Big Sky Academic All-Conference" honors during the 2014 season. He is working on his MASTERS degree in professional communication, so it's not a big surprise that he may have some ways of dealing with this form of communication he's been getting! You get em' Blake!
Blake has also been honored to be entered into the School of Kinesiology so he can work on his degree in sports management. He will have to deal with this on and off the field throughout his career, but if anything this has done him a great service, not a disservice. He will now be versed in the types of stressors coaches and players need to endure and will be able to pass on his experience on coping with these situations down to players who receive similar backlash. I wouldn't even be surprised if we didn't see Blake step up for advocacy against cyberbullying and aim it towards the league… in fact, I'd endorse him AGAIN!
And all that being said he's not a bad punter. In fact, he's a really established punter, so for all those
people booing I say, "Bah-humbug" to you! His statistics in 2014 at Weber State (where he transferred from) were great! He played all 12 games and averaged 44.1 yards per punt. Some professional punters can't even hit those marks! He even had 25 punts within the 20-yard line which are something every team dreams of getting a great defensive position on the field. So, for one bad, he has 25+ greats and then another few dozens more to go with it!
I say to you naysayers, Blake is a well-rounded man, with a good head on his shoulders. He has great academic prowess, and he is one HELL of a punter! So lighten up that attitude good people, cyberbullying shouldn't be taken lightly, this is a very great man's life you're talking about!
We are on #TeamBlake will you take the stand against cyberbullying with us?