In efforts to ease the name calling through stigmatization on recovery and mental health issues, I have been trying to tackle the issue of labels and reformat a different structure for them.
Before there was psychiatry and modern medicine there was a different way to go about certain types of "actions" or "inactions" of stigmatization. People would call things like "obsessing" much simpler things before psychiatry took over.  We would call obsessing "working hard, fulfilling your duty, or staying on top of things." What if we perceived stigmata's and labeling actions as something other than deviant or defiant?
What if we recoded the harsh nature of stigmas and gave them a new perspective?
Name-calling does hurt and it needs to stop.  How do we conquer such a goal when name calling is so engrained in our society? It seems like name calling and labeling is a second nature.   At this point to call someone using drugs a "junkie" or something "negative" is all too common.  If there were alternative methods to looking at stigmas, would we?

The first action is to realize every one of our actions is only as much as we perceive it to be.  We create labels through social actions.  Society–as of present–is set up to breed negativity.  It reinforces the stigma.
We must perceive labels in a different way for the awareness and realization process to take hold.   What if what everyone told you was literally just a "matter of opinion" versus social fact?
"What other people think of me is none of my business," anyway, right?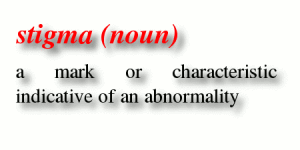 Here is how we can go about changing the face of stigmas.  This is a social exercise, but we can incorporate it into our daily lives.  We are the difference and it starts here!
This is recoding/renaming stigmas:
Anxious -> Eager
Depressed -> Relaxed
Crazy -> Different / Not common
Manic -> Energetic
Hyperactive -> Extra Energetic
ADHD -> "There's better things to focus on"
OCD -> Keeping Sh#! In order / Organized
Insane -> Maybe I'm just cooler than you!
Schizo -> Having dreams isn't bad
Multiple Personalities -> I'm definitely more popular than you
Hearing Voices -> I talk back to them now!
Scaredy Cat -> Maybe I'm just not as dumb as you are to try that!
Slow -> I work at my own pace…
Panicky -> Sh#! Just got real like, real fast. I'm okay now!
Addicted -> Overly Obsessive
Weird -> Just not YOU… I'm me!
Tweaker -> Struggling
Alchy -> Finding my way
Paranoid -> Careful
Fear -> Motivation
Pain -> Moving forward
Pansy -> Soft/ Warm Hearted
Fake -> Misunderstanding
Druggie -> okay… maybe these do hurt. But it get's better!
Fiend -> Unfocused on one thing, too Focused on another
You're a waste! -> That's a matter of opinion…
Bonehead! –> We all make mistakes

Crack-Head -> You don't know my struggle! What's your vice?
Junkie -> Again… what's your vice? I'll get clean, so should you!
You're Blind -> sometimes the blind man sees best
Thief -> What's it like when your family has no food? ME TOO!
Evil -> In my own unique way, who made you God of the Goodness?
Loser! -> We all lose sometimes, but I never entirely lose when I do the right thing!
Creep -> What makes me comfortable isn't what makes you comfortable… that's not wrong
Mooch -> I would do it for you if you were in my shoes. It's what humans do—Empathy
If you think that you're the only one being called these things, you're wrong. It's not just you.
I was called all of these things. Words hurt.  What if we put a different name on the harsh stigmas or regard these socially constructed terms with no name at all?
If we change the way words are shaped by those around us there will be inaction on the stigmatization.   Hurt provided with such outlandish names would start to diminish if we realize, "I can change society! I can make the difference"
Through perception of our society the stigmas will disappear.  Next the hurt that comes with them will start to change, too. Changing perspectives is as easy as changing words like "fear" to "motivation" or "crazy" to just… "different."
These words do hurt, but humans are always persevering!  How else would we have made it this far as a human race if we didn't persevere?
You must realize that you're not the only one getting called "names." This is a common error in human society.  Many don't realize that they are committing such tortures to people.   We don't need the irony and tyranny suckled into our lives.
Sticks and stones sure don't break my bones but they can wear down my psyche.  This leads most into more addiction and collapse of personalities. We are deemed outsiders' and given detrimental mental health statuses.
This is why name-calling and stigmatization can perpetuate a further addiction or mental ailment to someone trying to get better. This is why these "words" need to be viewed in a different light. This is how the stigmatization can stop!
Stand with me!
All it takes is a slightly different perspective to see the light and shine out on top of something as dark as stigmatization and labels. It can be done!
Through proper renaming and retraining techniques you implement into your life these "words," will surely shine through into your daily actions in a different light.  You can beat the stigmas before they have a chance to even touch you!
Take the power; you have control. Beat this demon! Take a stand with me! Break the stigma!
Stop the name-calling! Stop the labeling! No one deserves to hear such harsh words!
TAKE A STAND!
Email me more labels that you've "recoded" into a healthier light at my email "SubstanceForYou@gmail.com" and maybe I will add yours to the list!  I will update it as we change the face of stigmas around the world!