You have heard the term "willing to go to any lengths to get sobriety". What does that mean? What is the reasoning behind all this? If I stop drinking and drugging, that should be enough, right? Well in most cases that is not the case. Granted there are some situations where individuals can just stop, but are they the real alcoholic and addict? Willing to go to any lengths was extremely foreign to me because my mind and ego were blocking me from true freedom. To become willing to go to any lengths in sobriety is very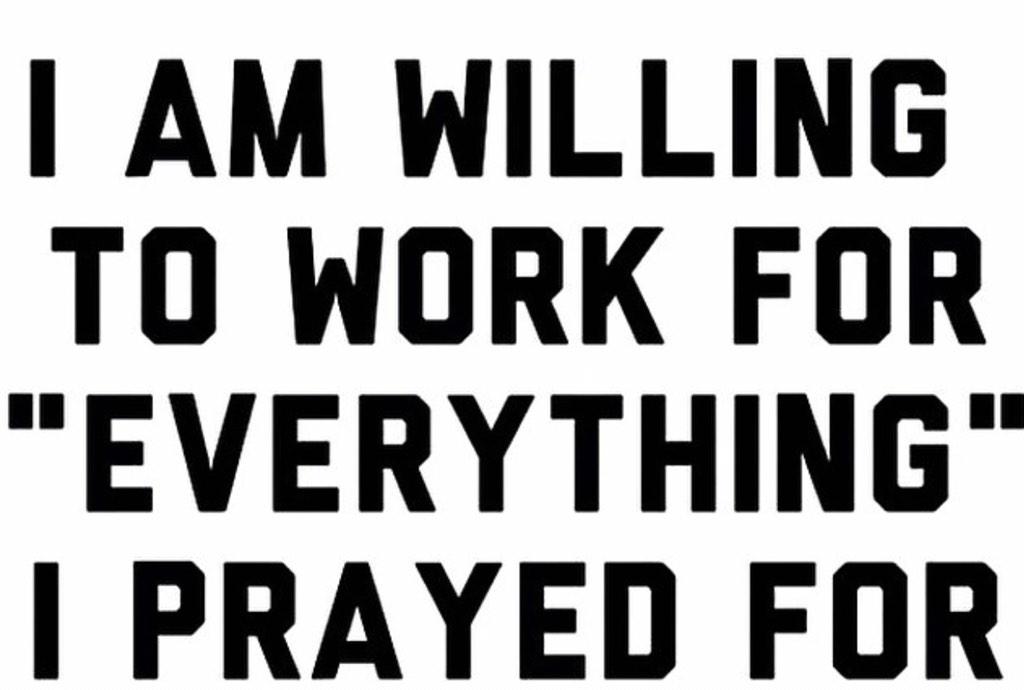 important to individuals wanting to change their lives. The point of emphasis here, willing, should not be taken lightly, it's the cornerstone of what makes things all possible.

According to Vocabulary.com, the definition of willing is stated as such; eagerness, forwardness, readiness, openness, receptiveness and wholeheartedness. Now, I know we all know what the definition of willingness is, but it's always nice to see what the pure definition is and how it relates to addiction. Just take a look at this definition. How receptive can we be towards this? This is something we must do. When we enter the world of recovery, we must have the desperation of a drowning man. The desperation we have must come from the willingness to change. It's not just the people, places and things that we need to change; it's our way of thinking that needs total alteration. What I have learned the hard way, even though I stopped drinking, alcoholism is still alive and breathing. Because I was unwillingly to change at one point, I was left untreated from alcoholism for the longest time, but through Gods grace the willingness was finally supplanted in me.
People
I have met MANY people who still surround themselves with their old friends after they "try" and get sober. These "friends" are people who once enabled them and the thought is that these people won't become a hindrance in their recovery. Oh how I wish this could be true. To be perfectly honest I don't think I have met someone who went back to their old using buddies and stayed sober. Granted there are some true friends who will respect your decision to get sober and not use in front of you, but then there is the former who don't understand addiction oppose to the latter. In my experience, the friends I did have all used and didn't appear to be supportive in my recovery.
I lost many friends due to my selfishness and self-centeredness, but the few friends I had left were guys I grew up with. But these guys all still used, but not alcoholically. I had to come to believe that alcohol and weed was the only thing that kept us close, and sobriety didn't do that. I now realized how indifferent we were after I became sober. This happened almost right away. What about the other people? I absolutely had to separate myself from my immediate family. I was too reliant on them and they looked at me as if I was an outcast. I don't blame them for having that portrayal of me. The debacles I put myself and them through can't be forgotten overnight. So separating myself from old people I once knew and family was very important, therefore, I can start growing by myself. Individuals in very toxic relationships must adhere to this too. Relationships predicated on co-dependency will always lead to the inevitable. If you enable her, or he enables you, best bet that wouldn't last if sobriety becomes your number one choice.
Separation needs to occur to get better.
If we want to change completely we need to build new from ground up. Though it may feel awkward, or wrong to separate ourselves from friends and family. This doesn't mean it's a bad thing. If they are true friends they will understand and love you for what you are doing. If your family is loving and caring, they will understand that we need to get better. Always remember if it feels good it doesn't mean it's good, if it feels bad it doesn't mean it's bad.
Places & Things
One the hardest things to do in recovery is swallowing that bitter pill and saying "I can't do life". We have gone through our debacles and always come up short and beaten down. How many times have we gotten sober for "X" amount of days and we tell ourselves "THIS IS IT, I'VE HAD ENOUGH". We always come out from our spree remorseful with a firm resolution not to go back, but that always is hindered by our unwillingness to change. We still insist surrounding ourselves with the places and things that still drive us. The idea that we can fix, manage and control our addiction has to be smashed.
Places need to be changed for many of us, but not all. Many of us have very unhealthy home lives that need to be altered for our sanity. If we resort back to this lifestyle its always a matter of time before we are back out there getting high or drinking booze. When were in early recovery, were very vulnerable people, and we CANNOT be around people who bring us down. Our ego wants us to go back to this environment because of an unwillingness to experience something new. We are fear based and insecure people throughout our addiction and when we get sober. So when we have to try something new that we are not accustomed to, this becomes a problem because fear has now made up our mind for us. It's much more comfortable for us to go to treatment, get our family off our back for 30,60, or 90 days than come home and act like everything is okay. This usually proves not to be the case, at least from my experience and the many I have seen fail at this after many failed attempts.
This always proves to be false just by past experiences. This same past has led us to complete degradation and humiliation, and we always go back. The mind, which is our ego, tells us the places and things that play a role in our addiction won't become a problem, but it usually does. Let's talk about the mind for a second. This same thinking mind will pretty up a junkyard if we let it. This same mind will convince use were absolutely fine, but were homeless and pan handling for our drugs or alcohol. This same mind dresses up our wants as needs. This same mind convinces us that we can manage our lives and our addiction. This is the same mind that tells us it's ok to have a "half" a beer or 1 baggy of heroin despite the consequences we know that lie ahead. We have to get away from this and get re-wired. If we still want to go clubbing or go to bars, I guess sobriety isn't that important. If we think we can manage going to bars and clubs without picking up a drink, guess again.
If we feel we can go to concerts and parties early in our sobriety and not pick up, guess again. It will only be a matter of time we enter one of those sprees again. Aside from friends, we must completely detach ourselves from our old way of life to change completely. Any reservation or lurking notion will deter us from seeking true freedom from the chains of addition. Instead of making a decision based on fear, we should walk through the fear.
Change
So if we change people, places and things, whets next? Well that is a significant step in the right direction. You have to remember, If we were willing to doing ANYTHING to get a bag of dope or a bottle, we must be willing to do ANYTHING to experience a new way of life. When it comes down to this willingness to change, a lot of us have limitations. This is because our ego is still running the show. Change starts to occur once we become willing. When we continue this willingness, our ego eventually will be grinded into dust and nothing will deter us. The freedom from bondage doesn't have to be temporary. As I stated previously change doesn't happen overnight, it's a daily reprieve for us, but change can be felt right away. For me, I had changed everything once I checked myself into rehab. At the age of 26, I started a new way of life. I became completely willing to try a new way of life. Suggestions started to become a daily thing for me, and I still remain teachable to this day. Willingness is a life long
journey, a journey that has so many miracles along the way. I must chop away at my ego on a daily basis and carry out Gods vision through the stream of life.
Chop Wood, Carry Water
My name is Shawn and I am a recovered alcoholic
Sober since 8/23/12