The Substance For You Saga Pt. 17
For pt. 16 go here- http://substanceforyou.com/substance-for-you-saga-pt-16/
Chronic Pain
Nearing Death
The first day of final exams at the University I woke up with a horrible pain in my gut. This was not normal pain.  It was going to be a miserable day/weeks. Oh, woe is me!
It felt like my nerves were being shocked with electricity. "Increase the voltage!" I had to push on, though.  It was do or die with my classes at this point. I mean, yeah I would pass with an "A."  But there was a no show-no pass clause!
I finished that week dry heaving a majority of my time. Purging myself of sins from denying my body of true health. It all hit me all at once, like a ton of bricks. I'm still clean, but I must take care of my body in order to recover. I didn't notice this, "denial."
I went to the doctor and he said that all I had was acid reflux.  He thought it was due to the lack of food, fluid, and proper nourishment. But now if I wanted to eat I seriously couldn't. Every time I ate I could feel my liver kicking and screaming because of the "Foreign objects" known as food. My body seemed not to recognize the one thing that could save me. I denied myself of the things I needed to survive that when I did really need it I couldn't.
Every time I ate a food it sent me into a panic attack because my body was now rejecting food. My nerves were permanently damaged (although they could regain some health during the time).
Me, with the need for instant gratification didn't want to wait this out, especially because of the the excruciating pain!
Nearing the last few days of my semester the stomach virus turned into something worse.  Who thought I could contract an Auto Immune Disorder AFTER I was done sharing needles, but this exactly what happened. I kept passing out if I'd try to stand for too long.
My nerves were so damaged that I was losing feeling in all of my extremities. It was hard to breath during sleep and almost all activities. I felt like I was suffocating!
I was able to finish final exams but only to be brought home the very next day and withdrawal from the next semester of classes… again. Why couldn't I do this right? I was clean wasn't I? Lesson learned: "Take care of yourself, or else you cannot take care of others!"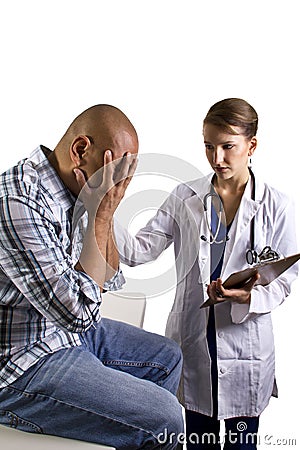 I went home and found my savior. Most doctors have what is seen as a "God complex," but I revered this man
The Specialist," as the God who saved my life… again! He cured my medically induced Tourette's syndrome. The events to follow were only a week after coming home from the University and it was nearing Christmas. "Great I'll be spending another Christmas ill or in the hospital. How much longer can I do this to my family?"
During that week, I had been to 11 emergency rooms in 7 days… odd number huh?  But, I went back to the neurologist/Specialist whom and he ran an ECG, which is a nerve damage test. I could only dread what he was doing because I couldn't feel the electrical impulses he ran the test with.  My nerves were extremely dead like I would be soon if I didn't get help!
After the test he says, "Your nerves are absolutely shot! No pun intended." The chart read with ranges of 0.25 to 3 at the highest. They should've read near 10 to 15 for each response rate. "Great… clean but not recovering," I thought to myself. At this point I was the opposite of recovering, I was getting ill in different ways now. (Take care of yourself!)
The Specialist said that the worst part of this is that this new Auto Immune syndrome I've developed could cause paralysis, but that was at the very start. I'd beat the paralyzing part. The next worst thing is that the pain will move around on me and is a chronic 24 hours a day ailment. My nerves were shot! I had created such a deficiency in all the natural chemicals in my body from the anorexia and over exercising that I had almost killed myself from trying to get healthy by losing weight, the wrong way.
SCIENTIFIC BREAKDOWN: The nerves have what we call a sheath around them, and mine? Mine was gone. In technical terms were"demyelinating polyneuropathy," but I'll save you the technical mumbo jumbo. Consider a nerve like your arm and it's imagine taking the skin away from your arm.  The sheath is the skin around your arms and now your arm is hurting just from a breezy day.
Ever blow on a burn or an exposed nerve? Doesn't that shit hurt! It felt like I was on fire at all times. But the best part of this was that I've made it through the neck of the woods without dying in the first couple of weeks. The specialist said, "you can recover in SIX TO NINE months from this."
I thought to myself, "At least all 11 of the ER visits weren't hypochondria like I was told! Hell, I should go back to those ER's and throw the doctors out like they did to me… invisible illness my ass! I was in pain!"
To explain a little further… Your body naturally heals itself from this type of autoimmune disorder; it's called Guillan-Barre Syndrome. The statistics show that only 1 in 100,000 people will ever have symptoms or come across this.  It all happens from a stomach virus.
Over the next six months I lived in chronic fear of chronic pain. My anxiety was sparking at every turn and corner. When I would get a pain in my leg I would think it's falling off.  Now when I got a pain in my gut I would think my liver is failing or worse, I have cancer. My ultimate go to was, "I am dying." I always would murmur to myself… "If it won't kill me, I'll kill me."
One day my parents heard this after I had been three days without sleep and I was in bad shape mentally. They could tell I was serious this time. I was on the ground doing push-ups telling them when my heart gives out it's a good thing, knowing that the nerve damage wouldn't last long (ha bloody ha).
My parents rushed me to the University of Michigan Emergency Psychiatric admittance. I was admitted to the Mental Health Ward for 10 days over my Christmas and New Years.
This was almost two years into my recovery. "Way to go champ!" I could think, people were cheering me on as I was being carted to the psych ward.
The mental health hospital was a bad experience. I told the admitting doctor I was an addict, but unfortunately they still put me on a drip of Thorazine for 24 hours to keep me from killing myself. I guess this was a mandatory protocol, plus the straps to the table and drool down my chin.
I remember being threatened to be tied down tighter.  My belt and shoes were taken away from me. "What do you think I'll hang myself with my belt?" I screamed at them… "Yes, yes we do!" they replied.
For part 18 of the saga continue to read on here- http://substanceforyou.com/substance-for-you-saga-pt-18/