Mike is an alcoholic and was a heavy drinker in the 1960s.  Finding treatment in 1983 and serious life training to better himself and sobriety, Mike now has 31 years sober and counting.  The question is always going to be, "How did you do it?"  Well, Mike gives an ultimate perspective into being sober for the longterm and earning his right to health, love, and freedom from active alcoholism.  Mike shows true experience through his 31 years of gaining, learning, and giving knowledge on alcoholism to the ones who need it most.  I want to thank Mike for sharing, and now introduce you to Mike's story:
"My name's Mike and I'm an alcoholic". I ha
ve been introducing myself with these words now for over 31 years.  When I first started saying this in residential treatment at the end of 1983, I really had no idea of the implications of what I was saying.

I had known that I had a problem with my drinking for some time but if nobody was going to challenge me then I had no wish to stop.  I began drinking when I was a student teacher in the mid 1960s.  I played rugby [very badly!] but a drink after a game was obligatory and it wasn't long before I could be found in the local college pub on most nights.  I recall that the vice-principal of the college and the pub landlord both subtly attempted to get me to drink less, but getting a drink on a daily basis seemed the natural thing to do.  My attitude to alcohol was always alcoholic – effect rather than taste was always important. On another occasion, at the bar after the annual rugby club dinner, I bought 5 brandies in one glass rather than buy a drink for someone else.  An early sign of protecting my supply!    Despite all this, I managed to qualify as a teacher in 1965.  So it is clear that my drinking was always alcoholic in nature even though I had few negative consequences during my 3 years training.
I started my teaching career in Basingstoke and it wasn't long before I had found a "local".  However, I really got into my new career and for some years it replaced drinking.  Not only did I teach full time but I taught evening class pottery 4 nights a week, started a brass band at school and took part in amateur dramatics.  So I replaced the mood altering of alcohol with the mood altering of workaholism!!  That's not to say that I would not get drunk on any occasion that presented, especially if the drinks were free!
So from 1965 to 1970 I was teaching.  I had married and had a child and money was very scarce so nothing was available for alcohol and I did not really feel the need. I left teaching for a different job as the teaching pay was so poor.  The result was that I had more disposable income so I was able to drink again at a low level.  Realising that this job was a mistake I went to join my mother at the small school that she owned.  The plan was that she would be able to retire after I had settled in but it soon became clear that this was not going to happen.  The end result was that I drank to deal with my feelings and this was the trigger for my really serious alcoholic drinking.  I do not attach any blame to my late mother; I just could not deal with the feelings.  Within 9 years I was in treatment, close to death but unable to see how I could live without alcohol.  Treatment was 6 weeks and abstinence based on what was then called the Minnesota Model, following the ideas of the Hazelden Foundation in Minnesota.  I was told that I had an illness, but initially I took that as being let down gently. Deep down I knew that I was a bad person, not a sick one.  Having left treatment with really no intention of staying sober I began to go to Alcoholics Anonymous (AA) meetings.  It was here that I began to understand my illness.  I managed to stay dry for a year, but as, what I now know, a "Dry Drunk".  I was dry but a long way from sober.  However, as a result of keeping going to meetings I eventually realised that I was carrying a great deal of unacknowledged anger, resentments and other feelings.  Once this light went on in the second year of my recovery I believe that this was the start of my sobriety.  Allow me to explain – just stopping drinking and doing nothing else leaves a big hole. In that situation it is difficult for most alcoholics to remain dry. Nature abhors a vacuum.  It's not a good place to be, so there has to be something more and that is replacing alcohol with a healthy alternative.  I see recovery as three phases (1) stopping drinking (2) staying stopped and (3) becoming contented to stay stopped.  As long as I am happy to be a non-drinking alcoholic I have no reason to return to active drinking. I am sober. Dry is not sober, dry is the first step towards sobriety. For me this state was achieved by using AA meetings and the 12 Step programme of AA, not only to address the drinking but to address life.  Alcoholism is a "Chronic, progressive and fatal disease that is treatable but not curable".  I understand what this means to me – I will always be an alcoholic.  At the moment I choose to be an alcoholic who does not drink and I do whatever I need to maintain this sobriety.  The benefits over the past 31 years have been enormous.  In 1990 I was able to go to The Hazelden Foundation and undergo 13 months of training to become an addiction counsellor.  This led to me returning to the UK in 1991 and working in residential treatment to pass on the possibility of recovery to others.  A few years ago I finally retired and now continue to lead a life in recovery, one day at a time.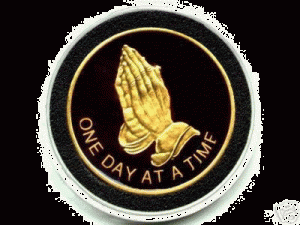 One day at a time is probably one of the most helpful sayings from the programme for me.  I was expert at living in the past, full of resentments or heading off into the future, projecting a life that was very unlikely to happen.  [As the saying goes "If you stand with one foot in the past and one foot in the future, you are in a great place to c..p on today!]  Thus I missed what was in front of my eyes – today!  I cannot change the past and I have no idea what may happen in the future, so I have learnt to do my best on a daily basis.  No one can tell anyone else how to recover but enough people now have found recovery that there begins to be some common denominators.  When I talk about recovery I mean living an abstinent life free from alcohol or any other mind or mood altering substances.  Others have different ideas but I know, for me, it has to be total abstinence.  My body is "allergic" to alcohol and therefore any alcohol will trigger me back to active drinking.  Once I accepted that idea and that it applied to me then I had to work out how to live a sober life.  That is what has been the exciting journey of recovery.  When I was drinking, deep down I knew that what I was doing was not OK and I had a permanent bad conscience.  Alcohol drowned the conscience temporarily, until I woke up the next morning.  But alongside this was the thought that I could not see, by then, how to live without drink.  In the end, having been confronted about my drinking I agreed to get some help, all the time, then, hoping to find a way through that would still let me drink.  So hypnotists, psychiatrists, GPs all had a go, with no success.  Not their fault, I was not ready.  In the end I agreed to go into residential treatment and it was there, for the first time in many years that my body became empty of alcohol.  As my head cleared, I became willing to go along with what was suggested and although the first year was really horrible, I managed not to have a drink one day at a time and those days have become months and now years.
When I first went to AA, there was mention of god or a higher power.  As a child I had had religion pumped into me and I was in no place where I wanted anything to do with god.  However, I managed to keep an open mind and eventually realised that what my recovery needed was a spiritual element, a sense of something outside me to lean on.  What I choose to call that "something" is up to me as long as it helps my recovery.  The reality is that without recovery, everything else falls apart – my marriage, my grown up children, my grandchildren and so on – everything.  Thus I need to do whatever it takes to protect my recovery and that will be individual to me although with similarities to the rest of the recovery community.  At this point, recovery is the habit, not drinking.  There are all sorts of reasons offered as to why some people develop alcoholism/addiction and some don't.  For me I know that there was a strong genetic predisposition passed down from both of my parents.  Another element seems to be that alcohol has a significantly different effect on me from someone who will never become addicted.  I know that my body metabolises alcohol differently and that there is objective scientific evidence for this, first serendipitously discovered in the 1960s.  When this was explained to me in treatment it helped me make sense of why I had developed alcoholism when others hadn't.
So I hope it becomes clear that recovery from any addiction involves so much more than stopping.  Addiction is a physical, mental and spiritual illness, a primary disease in its own right and not a symptom of some underlying problem.  This diagnosis is agreed by the WHO, the AMA, the BMA and the symptoms can be found in diagnostic manuals.  "If it walks like a duck, quacks like a duck and swims like a duck then it's probably a duck!"  Nobody wants to have a chronic condition but if that's how the dice tumble then alcoholism/addiction isn't so bad.  The treatment requires that I stop doing something.  It doesn't require medication, operations and so on.  The biggest struggle is with public perception where we are often seen as bad people who need to get good rather than sick people who can get well, which we CAN!!
Suggestions: (1) Stop drinking/using in any way that you can. Get appropriate help (2) go to AA/NA; (3) read the Big Book of Alcoholics Anonymous.  It is the textbook of recovery [not a novel]. Read it more than once, more than 10 times (4) get involved in recovery (5) begin to pass the message to others, when you have something to pass on (6) stay connected to other recovering people. Talk every day to at least one other recovering person (7) keep away from "wet" places e.g. pubs, off licences and other licensed premises, especially in the early days.
Recovery is not only possible, it is absolutely necessary if you are struggling with alcohol and/or other substances.  GO FOR IT!!!!"
This is 31 years of learning and earning sobriety on all levels.  Not every story is a one fit all mold, but it lets everyone know the fact that, "You are not alone!"  and "It's possible to achieve sobriety… and longterm!"  Truly amazing how the power of sharing is therapeutic for all involved, and the extent to which knowledge can help another persons recovery and life!


Thank you again Mike for sharing your story!  If you are inspired by Mike's story and would wish to share your story with me here and/or the World to help those in need to hear it most, or you need somewhere to send your story for your own betterment, please share with me here at:
SubstanceForYou@gmail.com
Your story truly matters, and thank you all for being as strong as you are! You are appreciated, and you are loved!