Wogging is a phenomenon that is sweeping the nation. It's taking the world by storm, and for the better! And it's more common than you think, and it can help with recovery!
A long time ago, when I was a kid, my dad taught me this ancient trick. This ancient trick was called Wogging. Then, sometime during my active addiction I lost sense of how truly affective wogging was.
So, what is Wogging? Well, it's most definitely a good thing. It'll get the blood flowing that's for sure!
Wogging clears my head. It takes the blood from my brain to my feet. Especially when my gears start turning to fast? Phewww it really helps! As soon as my mind starts racing I get my feet going! Not like the road-runner in old day cartoons. I guess I was always more of the Wiley Coyote, chasing my tail.
This Wogging phenomenon is catching on, but it's healthy. Trust me!
For me, life has been up and down, and over again. I've lost weight and gained it back so many times, I can't remember. Then struggling with chronic health issues, and going from overweight to underweight, back to overweight, the process of maintaining self-control has been rough. It's been hard to keep a steady regimen, until recently. I trusted the road to recovery, and I haven't looked back since.
When things at the University I'm near picks up I find myself slumping over a computer more and more. When I get into a writing mode and my fingers begin to hurt from all the typing and I find myself slumping over a computer more and more. But, what do I do with all of this "pain" I'm in? Remember the chronic health issues I have? If you don't, they aren't mediocre to say the least...
Coming from a traumatic past with addiction to things like: "heroin and alcohol" during my youth, I feel a lot of mental, emotional, spiritual, and a lot of the time physical pain. I think a lot of recovering addicts are still trying to figure out whether the pain is real or not too! We're left with years of a different life and have to pick up the pieces. It's like a puzzle, but you don't know where to begin. You pick an edge and hope you don't fall off, taking it piece by piece.
So, what do I do with this pain whether it's manufactured or not? Well, sometimes I wog. Wogging is a combination of "Walking" and "Jogging," combined for the term "Wog."  I go at the pace that feels right for me!  I go at my own pace because that's what works best. So, I Wog!
As I mentioned I've gone through some pretty serious health issues. So let me tell you a little bit more about those issues…
In the past year alone I discovered I was living with a portal and superior vein thrombosis—which in laymen terms means a blood clot going into your liver, and one going out.
Before that I suffered from Guillain-Barre Syndrome, which is a rare auto-immune disorder that affects only 1 in 100,000 at most. It creates this destructive, almost parasitic system in your body depleting nutrients from your body (as most autoimmune disorders do…). Guillan-Barre also created demyelinating polyneuropathy—which in laymen means, a range of full body nerve damage. So, the pain I did have, shifted and moved on me depending on what flared up, and when. I was hospitalized many times, and it was an utter catastrophe. In the beginning I couldn't feel my arms or legs and it was so hard to breath! The nerve damage targets your upper-respiratory system (so I experienced). It was an utter catastrophe; I'm lucky I survived!
Pretty soon I got to the point to where I had a mental collapse. I couldn't take the pain anymore, and I started falling apart from the inside out. As the old saying goes, "I'm sick and tired of being sick and tired." It sucked!
I was always in my head, and my mind was constantly racing. I rambled a lot, and I didn't make much sense, most of the time. I was constantly dreading the next time the pain would come back! I didn't know which pain would be where, or how I would deal with it! So, I induced a lot of my own pain, too. I called these moments, "fear for my life panic attacks." I told myself "if the pain didn't get my, I would get me!" And part of that was true; I was feeding a vicious cycle.
Pretty soon I got so wrapped up in my head I started putting weight back on once the physical symptoms went away. This created a lapse in mental symptoms so it perpetuated more physical symptoms down the road. A lot of people live in this endless cycle. I know I did for a long, long time.
But, I needed to get out of myself. I needed to break the cycle. This cycle cannot keep repeating itself it's pure insanity! I needed to get the blood rushing from my head and mind, down to my body and my feet. This creates a rush that no painkiller could give me! I don't care how embarrassing I look doing this Wogging either! I'm a proud Wogger!
One day I was Wogging around my house and a friend slams through the door asking what I'm doing. I told him that I'm exercising. The friend then proceeds to ask why I'm not outside doing this "exercise." I told him, "because I feel fat and I'm embarrassed." He looked at me wide eyed and I got what I expected… or so I thought… He laughed saying, "Man you're crazy!" I tell him "Thanks I thought so." And then, he readjusted himself.
"You know I'm not laughing at you, right? I'm laughing at everybody else, because they're laughing, too. It's all over the fact that no one will be actually laughing at you. I bet everyone is glad you're running, if not even encouraging. Man, it's crazy you think so low of the rest of us?" He says with a hideous laugh.
Right then and there I started to think, "Was I really so in my head?" And the answer is, yes! That's what it's been like all along. In my head!
In this new apartment near the University I was in a whole new town, and it wasn't time to play the victim anymore.
So what do I do? I get outside every single night and whether I'm "Wogging," "Walking" or "Sprinting until I walk," at least I'm out there trying. I feel like F#$#ing Rocky for that! Rah! Just trying feels much better than wishing I had! I lift myself up with every step I take further; there is no letdown here!
Sometimes if I'm not in the mood to run I will run as fast as I can until I can't anymore; which only lasts me 30-35 seconds at most! Then, I walk again for about 2 minutes, I catch my breath, and I slow my heart rate back down. Then, when I'm ready, I do it again. Key thing being: "WHEN I'M READY."
This is something that is called interval training. "Tony Horton" made interval training famous in the P90X series. "Max-Interval Training" was also made famous by "Team Beachbody's" other project "Insanity." (I'M NOT A DOCTOR AND DO NOT RECOMMEND FOR ANYONE WITH ANY PHYSICAL OR MENTAL DISABILITIES AND PLEASE CONSULT A DOCTOR BEFORE STARTING ANY NEW EXERCISE PROGRAM!)
The Mayo Clinic states that you will burn more calories with interval training, for if you go "intense" only for a few seconds, your heart is revved and becoming programmed to burn calories like if it were a more vigorous workout! The Mayo Clinic go on to state that it will improve your aerobic capacity. For example, finishing a given workout in 2/3rd's the original time because your lungs are now conditioned to go harder and faster than ever before. The best part about it's that you don't need any equipment, just yourself!
It's interesting that I claim to have less pain after I Wog, too. WebMd concurs my facts of less pain after an activity like Wogging by stating:
"When you exercise, your body releases chemicals called endorphins. These endorphins interact with the receptors in your brain that reduce your perception of pain."
This is great, so by being healthy, I can get and feel even healthier? Awesome!
WebMD also states that endorphins act as analgesics and as a sedative, too.
So, basically what we are saying here is, you are getting the effects of an IbProfen or a Motrin without the liver damage? In, fact you are strengthening your liver!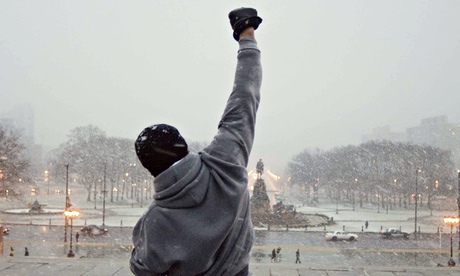 Then, you also get the effects of sedation, which is good for your mental health. The sedation is not only safe but also because of getting the blood flowing from the top to the bottom of your body. Even better! Now that's some real circulation! Self-regulation! Heck yes!
Now, I'm not manufacturing pain, I'm actually destroying it, naturally! It's safe to say, Wogging is better than nothing. Soon, Wogging will turn back into jogging, and then running for me, someday if I keep it up! Like everything else patience is a virtue, but man do I have more patience after this Wog! It's good to not feel so sick anymore; plus it gives me an energy boost. I'm not so tired anymore!
"Rocky! Rocky! Rocky!" RAH!