Have you ever wondered what a bad treatment experience could turn into and how doctors in those centers are misprescribing patients who are not psychotic but just coming off of drugs? Nick is 30 and with almost 9 years clean and sober, but he doesn't think so as he was wrongly prescribed and feareto comeng off of anti-psychotics the treatment center he went to forced down his throat.
What else are we to do when we ourselves can't tell the difference between heroin and alcohol withdrawal, or psychosis? Shouldn't doctors know better? Or are they just trying to numb us all in different ways?
This is how Nick is dealing with detoxing off anti-psychotic medication, while not being psychotic at almost 9 years clean and sober. And yes, I believe you are clean and sober Nick. Don't blame yourself for a fucked up system that has failed way more than just you. Hang tough buddy. I will be there to help you get through this!
I'm On Anti-Psychotics 9 Years Sober
"I'm a little bit over 8.5 years clean and sober and am ashamed to say that I am stuck on antipsychotics. I feel like an asshole and not good role model for anyone who looks and me and think that I'm sober or in recovery. I want to say that I'm in recovery, but others will criticize me very harshly if they find out that I'm on antipsychotics.
Hell! I'm not even psychotic.
I went to strictly a detox center for 6 days when getting clean from heroin abuse and alcoholism. I was just a kid then, and am still only 30 years old. But, I didn't know what I was getting myself into where they gave me a psychiatrist who mis-prescribed me because she thought I was schizophrenic and psychotic instead of just coming off of drugs.
She told me that she was giving me a Class A-typical antipsychotic for my OCD, but that was only one of the things for a laundry list of drugs to numb me when detoxing. I guess I missed the point where I was supposed to get off drugs and not onto other legalized prescription pills; all claiming to be non-narcotic. But, even if they were non-narcotic, she was a pill-pusher. And according to my most recent doctor, you don't treat OCD with an anti-psychotic medication. You can usually treat it with an SSRI or just therapy. Again, I guess I missed that lesson. I was too busy coming off heroin and alcohol to worry about what else they were giving me.
It makes me sleep a lot and frankly gives me more psychotic moments than if I was rather not on it at all. Those are the tell tale signs of the drugs side effects. I've also put on mass amounts of weight.
After losing my desire to be anorexic I developed a new eating disorder, known as binge eating disorder. I will go into a comatose like state when I take it so I take it at nighttime. But, my family tells me that I'll continuously wake up and clean out the fridge every night. Becoming very costly. We were even at the point that the doctor was urging me to file for unemployment because I was disabled. When the truth was every time I opened my mouth she seemed to just throw more pills into it.
Can you guess what the upside to this is? Well, I haven't done heroin, alcohol, or any other illegal substances in over 8.5 years. And as much as I'd like to say that I'm sober--my sponsor tells me I am--I feel like a liar and a cheater. I mean, I didn't know what misprespcribing was? I was just trying to get off of fucking heroin! And I guess that's where treatment failed me, like it does a lot of people who aren't aware of co-occuring disorders...
I've never spoken out before in thoughts that I'd be criticized, but I've found that a lot of people in recovery are on medication. Although my problem is that it's just as hard to come off of anti-psychotics as it is things like heroin. Especially when you don't need them and are not psychotic. Hell! I feel like I am when coming off of them. And that's just the case. I'm four days into detoxing off of antipsychotics, with the help of trained professionals. And you know what? You'd wish that this is the part of the blog that I tell you, "Fuck yeah! It's easy!" But to be completely honest... it's Hell.
My night terrors have come back when I was dealing with PTSD from the things I'd done in my addiction and I can't find a way to shut my mouth from screaming obscenities. It's like a bad case of road rage and roid rage combined. And if you ask me about sleep, I'd say, "What sleep?" Not to mention that it does bring out muscle spasms that are so painful I've contemplated going to the hospital. But shit... all they'd do there is give me morphine! So, I'm left to deal with acting psychotic, while not psychotic, and detoxing off of anti-psychotics; all with almost 9 years clean and sober.
If I'd of known I'd of never trusted this doctor in the first place. But, that's who treatment stuck me with so it had to be a good doctor right? I should've at least trusted my gut when she just kept throwing different things at me... SHE HAD NO FUCKING CLUE WHAT SHE WAS DOING AND SHOULD BE IN PRISON! Why? Because I've been stuck on these for almost 9 years with the fear of coming off. And yeah, I've been on much higher doses before, but every time it's lowered it's like a mental and physical detox all over again. Not to mention I wish I could find the guts to talk openly about suicide. But there are pills for that too, right?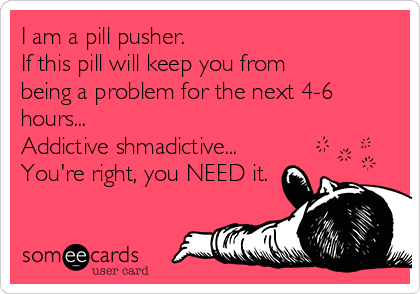 I just wish it all didn't feel so real, and left alone to wonder is the body pain in my head now too? Or is the mental pain causing me so many other symptoms I am losing control of myself. I hope I'm not really going insane. But according to a doctor this wouldn't be the first time. Although I know she's a fucking liar... 
And if you can't hear the resentments I have against her or myself then let me say it again. Fucking liars! All of you pill-pushing anti-empathic scum bags. Fuck you! But thanks anyways. Try it yourself, you wouldn't last a day in my shoes after I got done with you...
So, this isn't going to be my only blog post as Substance For You has asked me to share these experiences with their site in hopes of reaching people going through similar extreme situations, because you are not alone. I'm living proof.
I'm not psychotic! I just can't be! I just can't!
At least I'm 8.5 years sober right?
-Anonymously and honestly, Nick M."