I started my cling to materialistic resolution at the age of eleven when I was taken to an adolescent psychiatry and psychology doctor at one of the most prestigious institutes in the world. I'd complained about depression and asked my mother to end it, but I didn't know something much worse would start from this. I didn't want it to end in this way...
After evaluating me, and seeing many resident doctors, I couldn't establish a solid relationship with anyone; so it was a new diagnosis every time. Inherently it was a new medication every time, too. Because if one thing wasn't perfect then they had a pill to solve it. But, through it all I was still only in grade school and hid not taking the medication anyways. It was the "solve all" and all I knew; self medication. What I did do was something not so uncommon by the age of 13.


I was with my bandmates and had my first sip of alcohol while their mother was away. We stayed the night at our bassist's house and it was all too easy because no parent thinks that they "need" to lock up their liquor, right? Most parents back then didn't keep casual beer around either. They wanted it fresh. So when I started it was always the hard stuff!

We'd find a concoction of whatever we could so the right amounts from each bottle were taken and you couldn't notice a difference by morning, while we lie on the ground of the desolate basement; extremely hungover.
Through the years, the driving force for what pushed me to do more had always been alcohol. So, you don't have to say that alcohol is a gateway drug, because there is no true science or statistics to back it up in a natural manner of speaking. But when you ask most story tellers they will tell you that what every party or situation would start with, would be alcohol. That was the case with me.
Every time another drug advancement down my streamline into heroin and then treatment, there was a start that had begun with alcohol. It's safe to say that the one thing that haunts me to this day isn't heroin...
I've gotten that thought out of my head for a long time now. What haunts me is alcohol because of its accessibility and social acceptability. Not to mention that it was the easiest thing to just slide right back into, leaving me ready for open season on anything else, without realizing you've relapsed until the needles are back into the discussion!
So, when I say the word sober I don't say it because I'm not in recovery. Heck yes I'm in recovery! And I do identify more with the word clean than anything else. But what scares me the most is the alcohol that is associated with the word sober! And if anyone knows anything about this brand it is that we glamorize recovery, versus enforcing the stigma.
So when I'm talking about being 100% sober I feel more apt to walking around with my head held high because when I started Substance For You I was in my third to last semester at the quoted, "largest drinking school in the nation for that year."
It's safe to say that alcohol has always been my biggest trigger and would most certainly lead me to not being clean anymore if I gave in and had some liquor. But for me, recovery starts with staying sober, then living a clean life in order to change myself for the better into a recovery I've always wanted. 
I'm not someone who just jumps on a bandwagon for no reason, but I don't have the urge to do heroin, coke, or ecstasy anymore. And if I were to drink I know that I would fall back into my drug bitten ways.
I must stay sober first, in order for me to stay clean and that's just how I have shaped my recovery by not going to places that serve alcohol or associate with friends or family who do that to an amount that I'll smell it or the behavior it causes will bug me! And for the longest time I had a hard time just "not going" to places like Christmas gathering, even if it is my clean date. But in order to recovery, there's an order for me, almost like I'm extremely OCD (Obsessive Compulsive Disorder) about it.
The best way to describe it is as a fire-starter, and the rest--of the drugs--are just kerosine! So for today I love my sobriety (a tee of ours, seeing WHY we have that motto), and it will help me live a CLEAN LIFE (tee of ours), in order to show myself and others WHY recovery is possible (another tee of ours).
So just for today, don't get caught up in the labels of it, just do what scenario works for you in order to not pick up ANYTHING again. And once you have your routine down, you know it works for you, it reduces triggers, and you're happier in a growing recovery then don't change it for anyone unless you know in your heart that it's for the better! 
That's my recovery story on the difference between sober, clean, and recovery. And yes to your question: "A LOT of people do ask me about why and how each word is associated with Substance For You." But in reality, I try to help ALL recoveries as I'm in recovery from eating disorders like anorexia and binge eating disorder, body image issues, over exercising, mental illness like schizoid tendencies, depression and anxiety, insomnia, and chronic pain illnesses like auto-immune inflammatory disorders.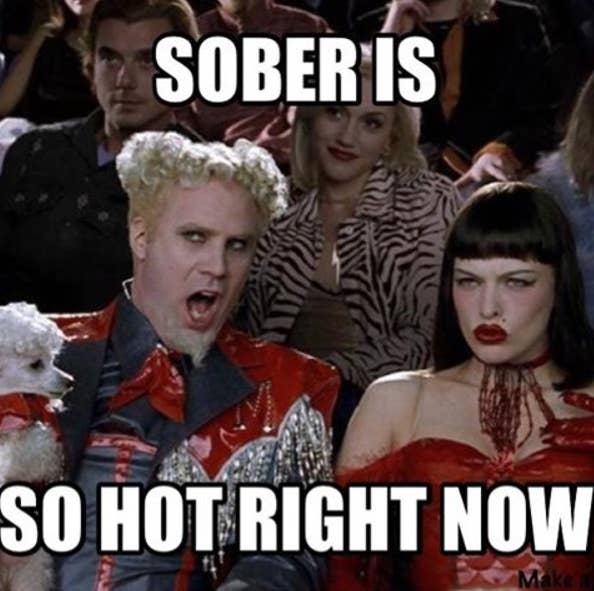 I may be sober, to be clean, to recover, but I am so much more too. I am a man trying to do the best he can with his life while moving forward each and every day, while reducing triggers and preventing relapse of any ailment I've had in my life. So like I said, don't get caught up in the labels between sober, clean, and recovery. Just do what works for you to stay alive and healthy, happy, and recovering. That's the real answer to all of this.
We are not a brand for sobriety, clean living, eating disorders, or mental illness as much as we are a brand strongly advocating a healthy turnaround into ALL and ANY type of recovery you may be going through. We are here for you, and WE DO RECOVER!